Careers with Wells Health Systems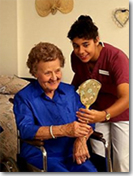 As a unique and dynamic health care provider, Wells Health Systems seeks to employee individuals who share our commitment to quality and our vision for the future. We are always seeking the best people to join our health care team.
With operations throughout the Commonwealth of Kentucky, we can offer an exciting career opportunity to you in many fields. If you have a desire to serve, a commitment to quality care and you are looking for a fulfilling career, please contact us for a facility in your area.
We can be reached by email or by sending your resume and career expectations to the following address:
Wells Health Systems
725 Harvard Drive
Owensboro, KY 42301
Attn: Greg Wells, Vice President of Operations
gwells@wellshealthsystem.com